An alfajor or alajú (Spanish pronunciation: [alfaˈxoɾ], plural alfajores) is a traditional confection found in Andorra, Argentina, Bolivia, Chile, Colombia, Ecuador, Paraguay, Peru, the Philippines, Southern Brazil, Southern France, Spain, Uruguay, and Venezuela. The archetypal alfajor entered Iberia during the period of al-Andalus. It is produced in the form of a small cylinder and is sold either individually or in boxes containing several pieces. These Alfajores (Peruvian-Style) have silky smooth manjar blanco (dulce de leche) sandwiched in between two melt-in-your mouth short bread-like cookies.
Video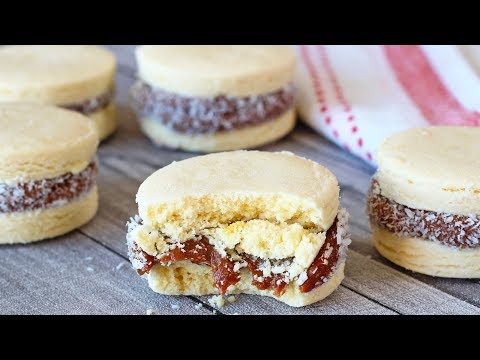 Classic Argentine Alfajores | Cornstarch Cookie Sandwiches by El Mundo Eats.
Gallery