Castella (カステラ Kasutera) is a popular Japanese sponge cake made of sugar, flour, eggs, and starch syrup.
Now a specialty of Nagasaki, the cake was brought to Japan by Portuguese merchants in the 16th century. The name is derived from Portuguese Pão de Castela, meaning "bread from Castile". Castella cake is usually sold in long boxes, with the cake inside being approximately 27 cm long. It is somewhat similar to Madeira cake, also associated with Portugal, but its closest relative is pão-de-ló, also a Portuguese cake.
There are similar types of sponge cakes named after the same fashion, in French: Pain d'Espagne, in Italian: Pan di Spagna, in Portuguese: Pão de Espanha, in Romanian: Pandişpan, in Bulgarian: пандишпан, in Greek: Παντεσπάνι, in Turkish: Pandispanya (Castile is a former kingdom of Spain comprising its central provinces, thus Pain d'Espagne and other variants are quasi-synonymous to "bread from Castile"). The traditional mould for baking Castella cake is a bottomless wooden box frame... Kasutera (Castella) is an old-fashioned Japanese sponge cake that is loved by everyone from the young to the old. It is sweeter and moister than western sponge cakes which are often designed to be eaten with cream or some kind of frosting. You can eat Kasutera as is, and it is perfect for tea time with green tea...
Video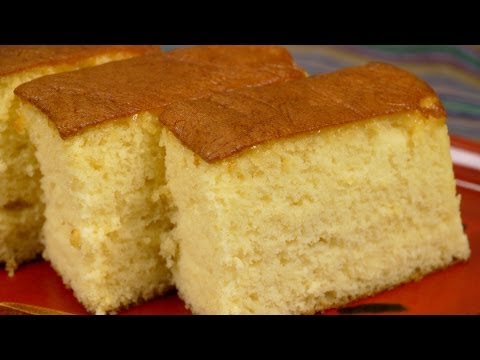 Castella (Kasutera Sponge Cake Recipe) カステラ 作り方レシピ by Cooking with Dog.