Spekkoek (kue lapis legit or spekuk in Indonesian) is a type of Indonesian layer cake. It was developed during colonial times in the Dutch East Indies. The firm-textured cake is an Indo (Dutch-Indonesian) version of the European multi-layered spit cake. However it is not baked on a rotating spit, and contains a mix of Indonesian spices, such as cardamom, cinnamon, clove, mace and anise. The cake is made of flour and yolk and is rich in butter or margarine. There is one top-rated culinary legend that connects Indonesia with the Netherlands, the signature delicacy of the Indo Dutch cuisine: Spekkoek. Lapis legit/spekkoek/Indonesian thousand layers cake is a must for special celebrations such as Chinese New Year, Christmas, or Eid. Traditional recipes use 40 egg yolks, but this recipe with 12 eggs still yields a very rich and very tender cake, and full of aroma of spekkoek seasoning.
Video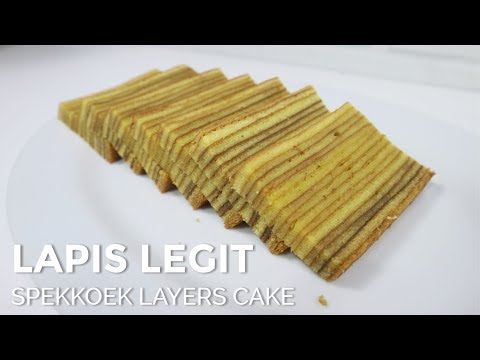 LAPIS LEGIT // SPEKKOEK LAYERS CAKE by nominooom.